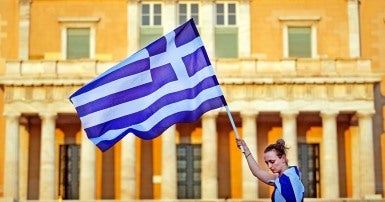 ​
CUPE would like to express our solidarity and gratitude to the people of Greece following Sunday's historic vote. By a large margin, Greek citizens rejected plans being forced on them by foreign banks and governments demanding another round of deep cuts and restructuring of their economy, social safety net, and public services. 
The Greek struggle to build a better economic and political future has captured our imagination about the potential for democratic movements to resist an agenda driven by a wealthy few.
All residents of a country have the right to decide their own political and economic future, free from interference by other governments or international financial institutions.
The Greek people are challenging policies that will only deepen poverty and inequality. These policies, imposed by the International Monetary Fund, the European Commission and the European Central Bank, have already devastated the most vulnerable communities in Greece: pensioners, workers, poor people and young people seeking jobs and a better future.
CUPE would like to express solidarity and gratitude to the people of #Greece following Sunday's historic vote http://t.co/LtwbRXi6hW #oxi

—

CUPE

National (@cupenat) July 6, 2015
Attacks on public services are a core component of the restructuring being forced on Greece, despite evidence that austerity will only worsen the health of the Greek economy.
Canadians are also struggling for a better future and against deep cuts here at home, and we are inspired by the leadership and courage of the Greek people.
The Canadian Labour Congress notes that although the attacks are not as aggressive in Canada, "for the past five years, the same variety of failed austerity policies imposed on Greece have been applied in Canada, with similarly predictable results: weak and faltering economic growth, a scarcity of jobs, rising inequality, and growing hardship for the most vulnerable."
CUPE supports the Greek people's call for debt relief and lasting solutions that include job creation, strong public services, and sustainable and fair economic growth.
Their fight is far from over, and we will continue to offer our solidarity and support as the work to transform their economy and society continues.