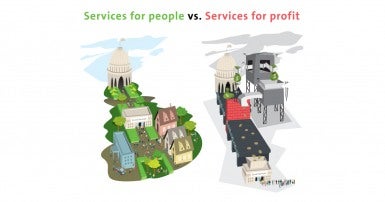 The federal Liberals continue to embrace privatization, disguised with the fake progressive language of "social impact bonds." Just days before the federal election was called, the Liberal government unveiled a scheme for investors to profit from a well-established community program.
Social impact bonds (SIBs) are a privatization scheme where private investors provide up-front money to deliver social services, for a profit. Governments pay consultants to design complicated arrangements that target important social issues like chronic homelessness, the opioids crisis, and keeping Indigenous children out of foster care.
The programs are then packaged as investment opportunities to lure private investors. If a program meets certain targets, investors are repaid their money, plus a profit. The repayment, plus any profits and consultant fees, comes from public funds that should go directly to delivering the service.
There is nothing "innovative" about social impact bonds. SIBs are a way to privatize public services by creating room for, and incentivizing, private interests.
The Liberal government's attachment to SIBs shows they are comfortable turning deep-rooted social injustices into sources of profit for huge investors. No one should make money from important social programs for people who are vulnerable because of poverty, racism or other injustices – regardless of whether the investor is a wealthy individual, a corporation, foundation, or charity. The federal government should provide funding directly to social service providers to support the health and well-being of our communities.
Alternative Suspension program: Canada's newest SIB
The YMCA's Alternative Suspension program is the latest federal SIB. Five days before the Liberals called an election, Public Safety minister Bill Blair announced that the federal government, working with consultants at the MaRS Centre for Impact Investing, had lined up five large investors for the SIB. The federal government will spend up to $4.5 million on consultants, lawyers and other middlemen, as well as to repay the investors with a hefty profit.
The YMCA program is a long-standing initiative for students who have been suspended from school. Students have access to help with schoolwork, and counselling services. The program helps students with a successful return to school and is one way to prevent school dropouts and reduce criminal activity.
Until this SIB was announced, Public Safety Canada and various community partners had directly funded the Alternative Suspension program. A 2017 Public Safety Canada evaluation of the program found that the program indirectly paid for itself, through the difference in federal income taxes paid by individuals with high school education and those who dropped out.
In 2020, the Liberal government decided to turn this important social program into a money-making opportunity for private investors. The SIB will expand the existing program to additional sites – an uncomplicated goal that could be achieved by increasing direct government funding.
The last publicly available information showed a potential investor profit of between 8.9 per cent and 11.7 per cent if program targets were met or exceeded. Investor payouts are based on a "change in positive behaviour" among program participants and the number of people who complete the program. There is nothing new or innovative about these outcomes. The program has been evaluated numerous times and has a positive track record on both measures.
The COVID-19 pandemic hurt the hunt for investors. More than a year after its initial launch, the SIB had failed to raise any money. School boards across the country were moving to online learning and adopting no suspension policies. The lack of school suspensions meant private investors weren't interested.
With in-person learning resuming, the federal government has secured private investment. Before any money was raised from investors, the government spent more than $600,000 to set up the SIB; 25 per cent of it went to legal and consultant fees.
Private investors always win with SIBs
Privatization advocates like MaRS and the Liberal government promote SIBs as a "pay-for-success" model. They claim the government only pays investors for successful programs. Yet in backroom pitches and investor negotiations, governments promise investors there's minimal risk of losing their money. Research has shown governments can't attract investors without significant guarantees. These include choosing programs with proven track records, using simple measures that are easy-to-achieve, and including contract provisions that safeguard investor capital.
For example, the Public Health Agency of Canada announced last year that investors in the Liberal government's first SIB, Activate (formerly known as Community Hypertension Prevention Initiative), would get more than a seven per cent return on their original investment even though the program enrolled 35 per cent fewer participants than its target.
Investors are also given voting seats on a SIB project's oversight board. Often the service provider is unable to change the program without investor approval.
Setting up, monitoring and evaluating a SIB eats up a lot of public money. By design, SIBs are a lucrative business opportunity for financial middlemen like consultants, lawyers, auditors and project managers. Public money is diverted from direct funding into investor pockets.
There's no room for profit in social services, or any public service. CUPE calls on governments to reject for-profit social impact bonds and instead properly and directly fund the social services and programs we need to advance social and economic justice, and reconciliation, in our communities and our country.