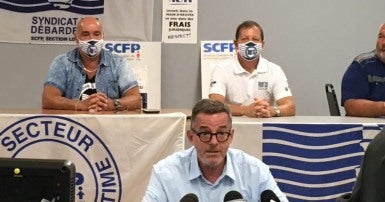 Yesterday morning, the Syndicat des débardeurs du port de Montréal (CUPE 375) began a general strike that will last 96 hours to put pressure on the Maritime Employers Association (MEA).
In the strike notice the union sent the employer on July 24, it was indicated that the longshore workers will be on strike on the Montreal port territory, including the Contrecoeur terminal, for four days, from 7 a.m. on Monday, July 27 2020 to 6:59 a.m. on Friday, July 31, 2020.
This is the second strike in less than a month at the Montreal port. Work schedules are one of the major issues in these negotiations.
Yesterday, tension ratchetted up a notch when union members discovered that strike breakers were present. The latter are managers with Termont Montreal Inc., one of the largest operators at the Montreal port.
"This is a major affront to us. That's the first time in forty years I've witnessed such a lack of respect shown to the longshore workers. We will come up with a response commensurate with this provocation," warned Michel Murray, a CUPE representative, who is a former longshoreman himself.
CUPE 375, which represents 1,125 longshore workers, has been attempting to renegotiate a contract since the collective agreement expired on December 31, 2018.
Negotiations did resume recently, however, following a major ruling from the Canadian Industrial Relations Board (CIRB) which dealt with essential services to be maintained in the event of a strike. The MEA failed in its attempt to have all longshore activities designated as essential services.
With close to 122,000 members in Quebec, CUPE represents the Syndicat des débardeurs du port de Montréal and longshore workers at the ports in Quebec City, Trois-Rivières, Sorel, Matane, and their counterparts with Arrimage du Saint-Laurent (Baie-Comeau), for a total of some 1450 members.