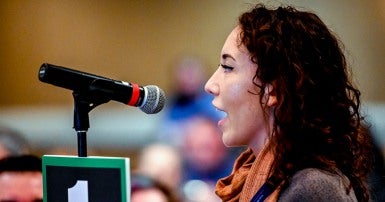 CUPE congratulates sister Deena Kapacila on her election as Equity Vice-President for Young Workers at the 2021 Canadian Labour Congress Convention.
Deena is the president of CUPE 4828 in Saskatchewan. Prior to becoming a CUPE member she served as the Vice President Operations and Finance for the University of Saskatchewan Students' Union while studying labour issues and the labour market in Saskatchewan.  
Since becoming a CUPE member Deena has served in a number of roles on her local executive. She has been a shop steward as well as a member facilitator. She is also an active participant in the CUPE Saskatchewan and CUPE National Young Workers Committees.
Deena has demonstrated solidarity with other unions and a commitment to her community. She helped to raise over $7,000 for striking UFCW 1400 members and has also served as emcee for the 2020 Women's March. She is involved in a number of organizations across Saskatchewan, including OUTSaskatoon and Mental Health Advocates of SK.
Deena is a welcome addition to the CLC and will bring a wealth of experience and enthusiasm to the Canadian Labour movement for years to come.