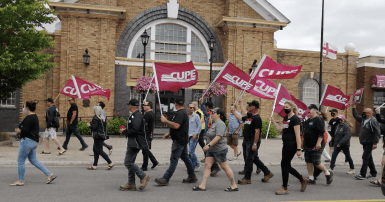 CUPE 1349, representing municipal workers employed by the Town of Grand Falls-Windsor, is calling on Town Council to instruct Chief Administrative Officer (CAO) Darren Finn not to disguise his role in the bargaining process and to participate in negotiations in-person.
"A collective agreement is a tool that benefits both employees and employers. It encourages both sides to come together to try to find solutions to labour problems. If an agreement cannot be reached, a collective agreement gives both sides the means to resolve issues with the assistance of a neutral third-party, such as an arbitrator or the Newfoundland and Labrador Labour Relations Board," explains Tammie Greening, President of CUPE 1349.
"The Town of Grand Falls-Windsor is trying to remove clauses in the collective agreement. They want to call them 'policies' without including them in the collective agreement, a legally binding document. This change would make it hard, if not impossible, for the union to request the assistance of the Labour Board or an arbitrator if both sides are unable to find a solution," says Greening. "The employer would be able to impose their decisions without accountability or transparency, and with no regard for employees or the workplace. Moving clauses out would make the contract worthless."
"A collective agreement benefits town residents as well, because they can count on it to ensure that employee relations are well managed and that issues are dealt with in a timely and efficient manner. For almost thirty years, the collective agreement between the Town of Grand Falls-Windsor and employees has served both sides well," says Greening.
CUPE National Representative Ed White adds, "We now have many labour issues that have gone years without a resolution and a CAO who wants to operate outside labour law. This negatively impacts the relationship between the employer and employees, and the quality of jobs and work."
"Since the hiring of CAO Darren Finn, the union has observed that the employer's style of management has changed drastically, and not for the good. In this round of bargaining, the Mayor and Town Council are hiding behind unnecessary layers of bureaucracy. Are they trying to protect themselves from taking responsibility for the decisions that are made?" asks White.
"If the Mayor wants firsthand information, so he can share accurate information with residents, he should be at the bargaining table himself. If the Town Council truly has confidence in the abilities of Mr. Finn – who they pay to manage the town – they should instruct him to conduct negotiations in-person," says White.
"So far, CAO Darren Finn's actions have taken place behind the scenes and have impeded negotiations. If he wants to make bargaining decisions, he should be physically present at the bargaining table. He should show up or shut up," states White.