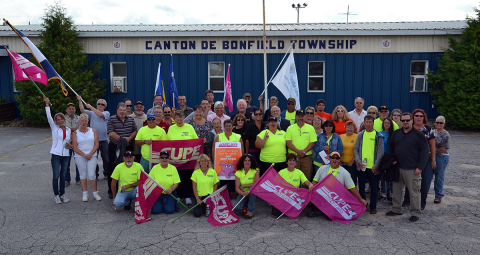 Andrea Addario | CUPE Communications
A settlement was reached in the 10-month long dispute between the Township of Bonfield and CUPE 4616-2.
"We worked really hard to reach a deal that both we and the Township can live with," said Diane Francoeur, spokesperson for the striking workers. "Ultimately, we were able to push all the major concessions off the table. Equally crucially, the five workers who were terminated by Mayor McLaren during the strike have been reinstated." 
"The Bonfield workers who held the line for ten months in this defensive strike have been a source of inspiration for all of CUPE," said Paul Moist CUPE National President. Moist visited the strikers on their picket line, and led fundraising efforts for them. 
"Bonfield members showed courage during a difficult strike. They were never alone on the picket line as CUPE members demonstrated their solidarity by raising funds to help support them. At the CUPE Ontario convention $42,000 was raised and at the CUPE Newfoundland and Labrador convention an additional $5,650 was raised. For our part, CUPE National will match the money raised," said CUPE National Secretary- Treasurer Charles Fleury.
The Bonfield workers received tremendous support from CUPE locals across the country. "It was a long, hard winter, and the support of those locals was essential to our ability to stay strong for ten months," said Francoeur.