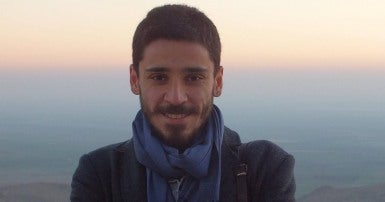 CUPE 4600 member Cihan Erdal is still being held without charges in a Turkish jail, three months after his arrest. Take a few minutes to send Cihan a solidarity message.
Cihan's supporters are asking people to send him letters in jail. Letters must be in Turkish, and organizers recommend using Google Translate to convert your message.
Mail your letter to:
Cihan Erdal
Sincan 2 Nolu F Tipi Yüksek Güvenlikli Kapalı Ceza İnfaz Kurumu
06930 Yenikent/Sincan - ANKARA - TURKEY
If you haven't already, you can also send a message to Canadian government officials to help free Cihan and bring him safely back home.
Cihan is a queer youth activist, PhD student and member of CUPE 4600 at Carleton University. He was detained in Istanbul on September 25, as part of a mass arrest of politicians, activists and academics. He is a Canadian permanent resident, who was in Turkey visiting family and conducting fieldwork for his doctorate.
Learn more about Cihan's arbitrary and unlawful detention at freecihanerdal.ca.
Visit the Facebook event page for the campaign to write to Cihan in jail (English and Turkish only).