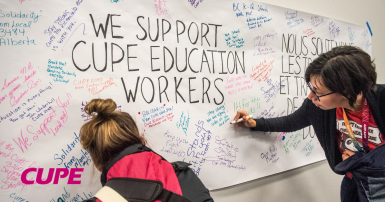 Education Assistants, custodians, school librarians, and secretaries at the Lord Selkirk School Division in Manitoba are preparing for job action following the School Board's refusal to offer a fair contract, says CUPE 1522, representing approximately 300 support staff.

Approximately 21 custodians and cleaners at Rolling River School Division represented by CUPE 1630 are also in a strike position, with 93 per cent in favour of strike action.
"School support staff at Lord Selkirk School Division have been on the front lines keeping our kids safe throughout the pandemic and have dedicated every moment to supporting the education of our students," says Karen Sinnock, President of CUPE 1522. "Parents and the community know that these workers are valuable, yet the School Board refuses to acknowledge these staff." 

CUPE 1522 will be organizing information pickets in the coming weeks to raise awareness across Selkirk about the Board's refusal to recognize school support staff.

CUPE 1522 and CUPE 1630 are asking for the same four-year deal that teachers across Manitoba received: 1.6 per cent, 1.4 per cent, 0.5 per cent, and cost of living adjustment. 

Twenty-four locals represented by CUPE have already settled this agreement between school divisions in Manitoba and support staff.

"Staff at Rolling River feel disrespected, undervalued and feel that they deserve nothing less than many other School Division teachers and support staff across Manitoba have received at the bargaining table," said Kevin Jay, President of CUPE 1630.
CUPE 1522 and CUPE 1630 have strike mandates from their membership and are in the process of preparing for job action.