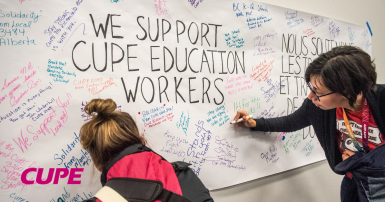 Education assistants, custodians, school librarians, secretaries, and other support staff at the Lord Selkirk School Division in Selkir, MB have voted in favour of a new collective agreement.
"School support staff at Lord Selkirk School Division have been on the frontlines keeping our kids safe throughout the pandemic and have dedicated every moment to supporting the education of our students," says Karen Sinnock, president of CUPE 1522.
"We are pleased that the Lord Selkirk School Division has offered us a fair deal that is in line with what teachers and support staff represented by CUPE in other school divisions received."
CUPE 1522 had a strike mandate from members, and organized information pickets to raise awareness across Selkirk about the value of school support staff.
CUPE 1522 and the Lord Selkirk School Division agreed to the same four-year deal that teachers across Manitoba received: 1.6 per cent, 1.4 percent, 0.5 per cent, and cost-of-living adjustment.
Twenty-three other CUPE locals have already settled this same agreement between school divisions in Manitoba and support staff represented by CUPE.
Custodians and cleaners at Rolling River School Division represented by CUPE 1630 are entering their fourth week on strike and are asking for the same.
"At this point the Rolling River School Division is putting our schools at risk, while stubbornly refusing to offer what everyone else is offering," said Kevin Jay, president of CUPE 1630.
"Rolling River School Division needs to step up, offer us the same deal, and let us get back to work."