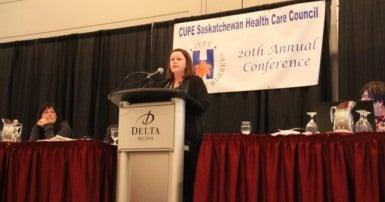 Bev Strachan, the president of CUPE 8920, who represents health care workers in Nova Scotia, is in Saskatchewan sharing her experience with Nova Scotia's rushed health authority merger.
In April 2015, the Nova Scotia government created one provincial health authority. A recent paper written by a group of medical professionals said the new superboard "isn't agile enough to respond to local needs and is subject to political interference."
"Brad Wall and the Saskatchewan government could learn a lot from the Nova Scotia health authority mergers," said Strachan. "Our process was rushed, with little consultation with staff and patients. We are still feeling the impact of this hasty process."
"Morale in our workplaces has diminished, people are exhausted and no one even knows who the employer is anymore. The bureaucracy is so dense most times you can't even identify the decision makers," said Strachan. "There is still time for the government to do the right thing and not rush this important process."
One positive thing the Nova Scotia government did was recognize existing union jurisdictions, which minimized some of the uncertainty for workers during the merger process. CUPE, NSGEU, NSNU and Unifor worked with the government to develop a less disruptive way, which was a pitch for bargaining associations.
Saskatchewan's three health care provider unions, CUPE, SEIU‑West and SGEU have been working together to develop a constructive proposed amendment that would help ensure a smooth transition to one health region for patients, residents, clients and their families, as well as for the health service providers who care for them.