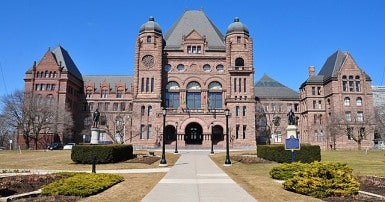 The Ontario legislature is returning today, but the province can't afford to return to a recycled budget, says CUPE Ontario.
"The Ford Conservatives have continued to proudly say that they'll be delivering virtually the same inadequate budget they presented before the election, despite inflation exploding and emergency room closures across the province," said Fred Hahn, President of CUPE Ontario. "When circumstances change for the worse, the people of Ontario need a government that is responsive and responsible by altering its plans. If an architect heard that the landscape they were planning to build on was shakier than expected, they'd draft up a blueprint with stronger foundations."
The Ontario legislature is returning today, with unions including CUPE Ontario attending a rally at Queen's Park. Tomorrow, the throne speech will be delivered, and, in an unusual move, the budget will be tabled after being initially presented in early May before the provincial election.
"When they first presented this budget, we saw through the spin surrounding it to the cuts it contains to the services that keep us healthy, save our lives, and keep our communities going," Hahn said. "We're talking about $2.7-billion to be cut over the next three years, meaning fewer education workers, nurses, personal support workers, university workers, social services workers, and more."

"That election-ploy budget was bad enough then, but it's even less up to the incredible task of helping people to deal with inflation steadily rising and the crisis unfolding in our public healthcare system," added Hahn. "We can't let the Ford Conservatives blow the dust off this shelved budget and expect to hand it in unchecked. We need them to go back to the drawing board and make sure this budget clearly dedicates resources desperately needed for a health recruitment and retention plan, help for workers to fight inflation with higher wages, permanent paid sick days, and so much more."