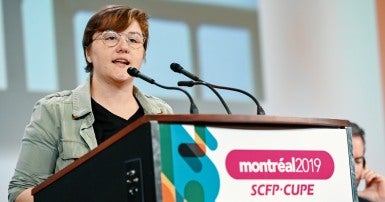 When fighting the worst impacts of capitalism, resistance and hope must go together, Brazilian unionist and LGBTQ2+ activist Geici Maiara Brig told delegates on Thursday.
Brazil is literally in flames with the burning Amazon rainforest, she said, because of government policies that only benefit capital: the Jair Bolsonaro regime is selling assets and resources to multi-nationals at bargain basement prices.
Meanwhile, intolerance and hatred are advancing. Every 23 hours, someone in the LGBTQ2+ community is murdered. Violent attacks against indigenous leaders have increased, with one leader murdered recently. But even with sexist, misogynist discourse on the rise, Brig added: "It's my body, my rules. So I have no choice but to fight with those who believe in a better world."
A youth representative with Public Services International (PSI), Brig said that solidarity across borders is necessary to fight the spread of populist totalitarian governments.
Brig channelled the hope and the influence of former Brazilian President Lula, who many believe was illegally incarcerated, concluding with a quote: "'The powerful can kill one, two, or 100 roses. But they will never be able to stop the arrival of spring'."