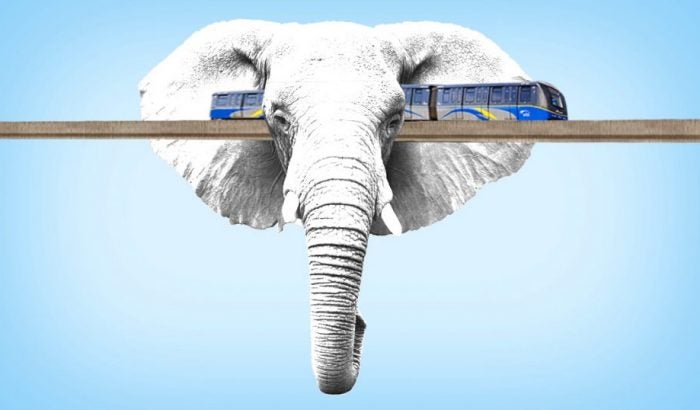 CUPE and the Trainsparence coalition are questioning the viability of a major housing project linked to funding for the Réseau électrique métropolitain (REM). In fact, the Cap Nature Pierrefonds West development project, which promises to build 5,500 homes, is currently affected by the floods that have hit the Montreal area.
Members of the coalition went to see the situation on the ground first hand.
The 180-hectare western zone designated as the project's conservation zone is currently experiencing serious flooding. The 185‑hectare eastern zone where the 5,500 homes are set to be built  is presently saturated with water and the vegetation resembles a marsh.
CUPE and the coalition are questioning the viability of this real estate project and, by extension, the viability of the REM itself. The REM will be partially funded by "development royalties" coming from new residential constructions around its train stations. The Cap Nature project will be adjacent to the REM's Kirkland station and there is reason to wonder if the REM's traffic predictions include the future population of Cap Nature.
"Clearly, Cap Nature is on wetlands and susceptible to flooding. Climate change will certainly increase the severity and frequency of flooding in the Montreal area. Is it like the rest of the REM project? Is the Cap Nature housing project a white elephant, a classic case of a dubious development in a wetland? There is cause for concern," said Mathieu Vick, a CUPE-Quebec researcher.
"Ultimately, the REM's viability is the real question here. Does its business plan rely on responsible and sustainable housing development?" asked Vick.
With more than 110,000 members across the province, CUPE is active in 10 other sectors, including social services, communications, education, universities, energy, municipalities, Quebec crown corporations and public agencies, urban and air transport, and the mixed sector.