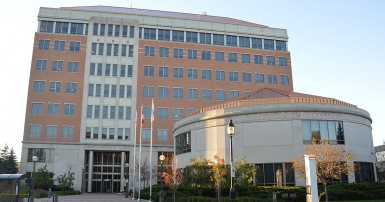 After more than a year of unproductive negotiations, about 1,200 Regional Municipality of Waterloo workers represented by CUPE have filed for a No-Board, which will initiate a 17-day countdown to a strike or a lockout.
The workers, represented by CUPE 5191 and 1883, deliver a range of services including the Region's paramedics and logistics support, public health, childcare and social assistance. Both union locals have been without a contract for over a year, with the employer unresponsive to the bargaining process.
"The Region of Waterloo has shown little interest in negotiating with us," said Luke McCann, President of CUPE 5191 and an active paramedic.
"We feel grateful for the opportunity to serve our communities and want to continue working. All we are looking for is the respect of the employer in recognizing the value of our workforce. We deserve a fair deal."
Noelle Fletcher, President of CUPE 1883 that represents over 900 workers, said the Region of Waterloo had been consistently disrespectful at the workplace and at the bargaining table, to the detriment of the largely female workforce and the services they provide.
"The Region of Waterloo doesn't seem to care for the services we provide. They voted to close all five of the childcare centres they operate. These were the only centres that were open for essential workers to have care for their children when all others were closed. Their decision will leave over 200 parents stranded while laying off 80 childcare workers," she said.
Fletcher said that members of her Local are largely concerned about job security, lack of investment in mental health and looming layoffs as the Region continues to cut services.
Workload and lack of support
Both CUPE locals are citing a lack of support from the employer to address higher workloads, poor workplace morale and lack of mental health supports.
"Paramedics are burnt out. Our members have stepped up in a huge way in the community. In addition to servicing emergency calls, we have been supporting the community in an ongoing capacity with COVID testing and vaccination clinics, community paramedics supporting home care, and our logistics support members ensuring all ambulances and equipment is effectively sanitized and restocked," McCann said.
"We have worked throughout the pandemic with little meaningful support from the employer, especially at the bargaining table."
He referred to the employer's proposal to eliminate job share positions as an illustration of the Region's disregard for the workforce. Job share positions allow two workers to share the equivalent of a full-time position.
The paramedics are seeking improvements to paid sick days, and compensation on par with neighbouring municipalities to help address a recruitment and retention problem.
Fletcher from CUPE 1883 drew a link between the Region's lack of investment in mental health and its insensitivity to the issue as an employer.
"We lost two members on a weekend, to a mental health related issue and to cancer. Our members were devastated to lose their co-workers but there was no immediate support to access resources or acknowledgement by the employer," she said.
She highlighted the case of a member in the community services department – a single parent who couldn't access adequate psychological counselling support as she went through a traumatic experience of having her two-year-old son go through treatment after being diagnosed with a brain tumour.
"We have very limited access to mental health supports. In her case, she had to spend money out-of-pocket for the sake of her own mental health. Meanwhile, she used up all her sick time to care for her son, and then faced an onerous process to apply for long-term disability with the employer's carrier," Fletcher said. "We are not asking for much – just simply treat us as human beings."