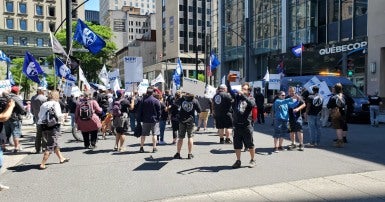 A rally was held Sunday in front of the head office of Quebecor in Old Montreal to show solidarity with Videotron – Gatineau employees. Participants in the rally urged the employer to return to the bargaining table to come to an agreement that would be a win-win for both sides.
"The message is straightforward.  We are extending a hand to management and urging them to return to the bargaining table. We are bound to reach an agreement. Let's put our shoulder to the wheel and work together," said Nick Mingione, president of the union representing Videotron employees (SEVL-CUPE 2815).
The union reiterated that it wants to find solutions to the employer's actual needs and to those affecting all employees.
"We have contributed to the evolution and achievement of what we call the "Quebecor empire." With our passion and sustained efforts here at Videotron, we have created customer loyalty and contributed to the profitability of the company. We're willing to take up new challenges, but the wealth must be shared with and recognition given to the men and women who have gotten the company to this point," said Mingione.