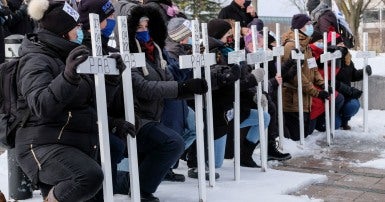 At around noon this Tuesday, CUPE held a rally in front of the National Assembly in memory of the 12 public sector workers in Quebec who lost their lives after contracting COVID-19 at work. Around one hundred people took part in the event. CUPE has also pointed out that more than 18,000 employees in the health care, social services and education sectors have contracted the virus to date.
"The Government of Quebec must bear in mind that it is responsible for protecting the health and safety of all workers in Quebec. Moreover, we denounce the shortcomings in the Ministry of Labour's proposed amendments to the Act respecting occupational health and safety. They would result in unacceptable setbacks in the reparative measures to address occupational accidents," said Benoit Bouchard, President of CUPE Quebec.
"These amendments would erroneously rate several health care and social services facilities as low risk. This would be inconceivable, particularly in light of all of the ordeals we have had in 2020," added Benoit Bouchard.
"Health care personnel stand a 10 times greater chance of contracting COVID-19 than the general population, We will never be able to offer enough thanks to all of these men and women who put themselves at risk to provide services to the public in the health care, social services and education sectors. The least the Government of Quebec can do is value their professions, stabilize their working conditions and make their working environments more secure. This means, among other things, negotiating a collective agreement commensurate with the devotion of the personnel in these sectors," indicated Marc Ranger, Director of CUPE Quebec.