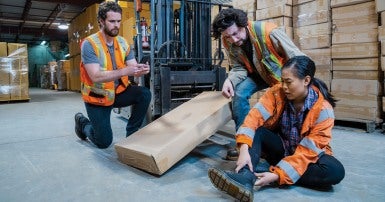 Ronald Boisrond | CUPE Communications
The Quebec union movement has unanimously denounced Bill 59 tabled by the Government of Quebec. This bill is intended to modernize the occupational health and safety regime consisting of its two fundamental pieces of legislation, i.e., the Act respecting occupational health and safety and the Act respecting industrial accidents and occupational diseases. 
These two pieces of legislation adopted in 1979 and 1985 respectively, made up the backbone of Quebec's occupational health and safety regime, which was the most cutting edge in North America at the time. It dealt with workplace prevention and compensation of victims of industrial accidents or occupational diseases.
Bill 59 does not reflect these two objectives in any way. Instead, it calls into question several pillars of the occupational health and safety regime, particularly by having the opinion of the employer's physician override that of the attending physician.
"In its current format, the bill transfers full control of the application of preventive measures to employers by removing employees from the process of identifying risk factors in their workplace. This significantly curtails the opportunities union representatives have to do actual preventive work as they are allotted fewer hours for this purpose," said Benoit Bouchard, President of CUPE Quebec. 
Many amendments have been proposed to the Act respecting industrial accidents and occupational diseases, and none benefit the employees in any way.
During parliamentary consultations last January, the Quebec Federation of Labour (QFL) and its affiliates demanded that the government make major amendments to the bill or rewrite it entirely. The opposition parties, researchers, private citizens and other groups have demanded that many amendments be made to the bill.
The QFL and its affiliates have just launched a large-scale media campaign to make the public and elected officials aware of how much ground employees stand to lose if this bill is not substantially amended.
Between 2015 and 2019, 485,038 workers in Quebec were involved in an industrial accident or developed an occupational disease, 1059 of whom eventually passed away.