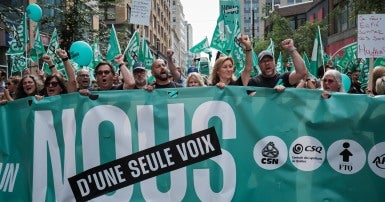 Quebec's Common Front has announced that the next round of strike action will take place from November 21 to 23, unless an agreement is reached before then.
"We are announcing today that the next round of strike action will take place over three full days. Our message this morning is clear: our bargaining teams will be available at all times over the next two weeks. The objective is to get a win-win settlement for workers and the public. No one wants another round of strike action, but we'll be ready to go that route if we have to," said Common Front spokespersons François Enault, First Vice-President of the CSN, Éric Gingras, President of the CSQ, Magali Picard, President of the FTQ and Robert Comeau, President of the APTS.
"That said, it must be clearly understood that this movement reflects the determination of our members, who voted 95% in favour of a strike and are willing to go right to the end, even as far as an unlimited general strike, if the message still hasn't gotten through to the government," the spokespersons said.
On October 29, the Conseil du trésor submitted an offer containing a paltry 1.3% increase. This offer, which went from 9% over five years to 10.3% over the same period, does not even come close to making up the huge ground lost by the 420,000 workers in the Common Front. In fact, they would end up poorer.
"In spite of the fact that 100,000 people took to the streets in support of the Common Front on September 23 and that a mandate for an unlimited general strike received 95% support following the insulting offer last Sunday, the government has left us with no alternative but to strike. Quite simply, it reaped what it sowed. At present, we cut back on our demands at all of the sectorial tables. But one thing is certain: the workers have big expectations. No way will we agree to something that will see our people end up even poorer!" said the spokespersons.
The government opted to give parliamentarians a 30% catch-up wage hike in addition to other annual increases, not to mention the 21% over five years it offered to the Sûreté du Québec, which was turned down. Any wage offer to the Common Front shall express the same level of consideration.