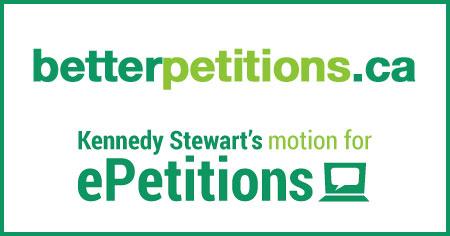 Riccardo Filippone
 | 
CUPE
 Communications
Ever wish you could drag Canada's Parliament into the 21st century kicking and screaming? Wouldn't it also be amazing if at the same time you could force the government to debate issues they'd rather sweep under the rug? Like affordable child care? Well,
NDP
MP
Kennedy Stewart's motion on electronic petitions might just get us one step closer to both.
Currently, the only petitions you can submit to the House of Commons are those that have been signed via – wait for it – paper! Yes, in the era of email, social media, and mobile web browsing, the only way you can get your name on a 'valid' petition is if somebody finds you in person and has you sign a piece of paper.
And what do you get for your trouble? A Member of Parliament stands up in the House, reads out the subject of the petition, the number of signatures, and then sits down – they are not allowed to express an opinion on it. And if that wasn't incentive enough, within 45 days the relevant Ministry will issue a 'response'.
The
NDP
had just about enough of that nonsense. On Jan. 29 Kennedy's motion on e-petitions was adopted and initiated a yearlong study to sort out how to best implement e-petitioning in Canada. Once done, the petitions millions of Canadians sign online will be admissible to the House of Commons. This is a huge victory for anyone who ever thought a petition should reflect the number of people who actually care about an issue rather than the number of people you could track down in person and have sign a piece of paper.
And it gets so much better.
The motion also recommends a system of petition-triggered debates in Parlia­ment. That means once a large enough number of online signatures have been collected, we can actually force our elected officials to have a public debate on that issue.
It appears democracy and the Internet can get along just fine.