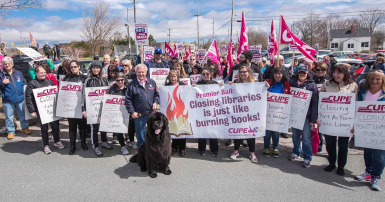 ST. JOHN'S – The union representing the province's library workers says its members will be holding information pickets at several branches across the province on June 22. The events are designed to inform library patrons and members of the public about the drastic cuts being proposed by the provincial government.
They will take place at the following locations:
Corner Brook City Public Library, 4 West Street – 12 noon to 1:30 pm
Kindale Public Library, 45 Carolina Avenue, Stephenville – 12 noon to 1 pm
Harmsworth Public Library, 1 Cromer Avenue, Grand Falls/Windsor 12:30 to 1:30 pm
The

A.C.

Hunter Library at the Arts and Culture Centre, St. John's – 1 to 2 pm
Mount Pearl Library – 12:30 to 1:30 pm
Labrador City Library – 1 to 2 pm
The library workers will be handing out leaflets and buttons.