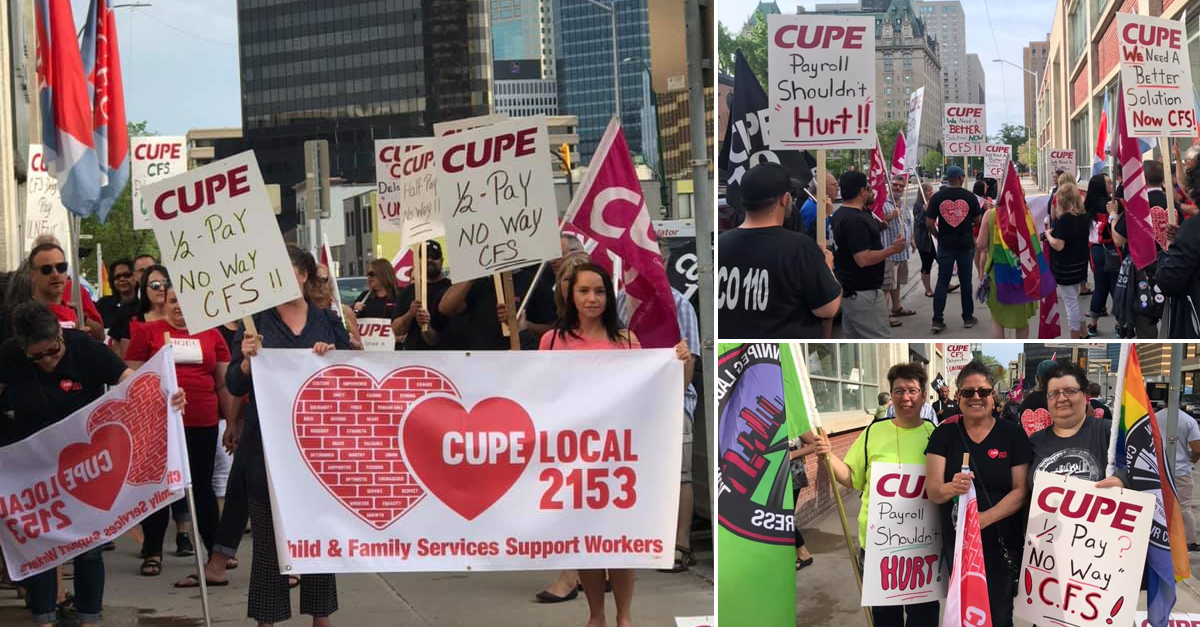 Manitoba's support workers at Child and Family Services (CFS) in Winnipeg and Eastman held a rally Friday to protest a plan that will reduce their pay by at least half in the month of July. The protest was held in front of the CFS Emergency Placement Resources office.
In April, the province advised staff the details of their plan to make changes to the payroll schedule, including moving the payday to an opposite week and lengthening the time between their paycheques and last day's pay. One of the main effects of this change is that employees would be paid only a fraction of their wages in the month of July. Employees are concerned this will prevent them from paying their monthly bills and expenses, even though they have done the same amount of work they normally do.
CUPE 2153 represents employees at Winnipeg and Eastman CFS working as shelter, family support and transportation support workers. CUPE 2153 members work to help support some of the province's most vulnerable children in Winnipeg and the Eastman areas.
"Nobody should have to face being paid less than half of their regular pay in a month just because of an administrative change to payroll. Our members do some of the most valuable work for the province, and this plan just serves to send the message that Winnipeg and Eastman CFS does not care enough to make sure their staff have a regular income," said Linda Durham, CUPE 2153 president.
Several hundred employees, according to Durham, would be facing pay for only 5 of the 14 shifts they normally work during the month, equaling approximately 36% of their normal pay. "This could jeopardize our members' ability to pay basic bills, rent or mortgages. It's just completely unreasonable," said Durham. Other employees will see no more than 50% of their normal pay that month.
Although the province has responded by offering small pay "advances", they fall significantly short of making up the difference and will still need to be paid back over a 4-week period after the schedule change. CUPE has provided suggestions of how to minimize this impact by using an alternative pay-change schedule in conjunction with the advances having a longer pay-back period, however, to-date the employer has refused to make any changes to the plan.
CUPE is calling on the province to suspend this plan and to renew discussion with the union to find an amicable schedule that will better minimize the negative impact of an administrative change to payroll.