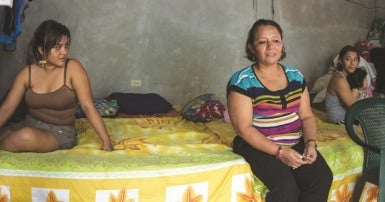 Margarita is a 49 year-old Honduran maquila worker. She works in the Canadian-owned Gildan factory. She is the proud mother of 5 children and 3 grandchildren, and lives near the city of Choloma. Born in San Pedro Sula, she has lived her entire life in this region of Honduras. Margarita has worked in the maquila sector for 15 years and it has taken a negative toll on her health.
Back in 2005, her health problems began when she started experiencing pain in her back, shoulder and neck. This injury is directly linked to the repetitive movements and long hours that she has had to endure at the factory sewing collars onto t-shirts. In a factory like the one where Margarita is currently working, workers are expected to sew sections of the t-shirt onto at least 500 dozen t-shirts a day. That means that Margarita, in a 12-hour shift, was expected to sew 6,000 collars each day.
After many doctor's appointments, Margarita finally received a health certificate stating the need for her employer to relocate her to another position in the factory. She now works in an area that sorts the t-shirts for labelling. She is one of the few that received this relocation. Numerous others have to endure the pain for many years, as she did; often these illness are not recognized as work related injuries by the medical system or if they are and a certificate for work relocation is issued, the employer does not follow through or relocate the worker.
When asked about the most difficult part of living with her injuries on a daily basis, Margarita commented that it is difficult that she can´t
hold her grandchildren or help out with household chores. She wants to, but her physical condition makes it too difficult.
Margarita is a volunteer community leader with the Honduran Women's Collective (CODEMUH). She started attending CODEMUH activities in 2006. She has since become a coordinator of a women's group in her com-
munity facilitating workshops on various topics that she has learned about through CODEMUH including human and labour rights, and reproductive and sexual health.
CUPE Global Justice has partnered with CODEMUH, which is working to make positive changes in this industry and ensure that the health system recognizes these injuries as work related injuries.