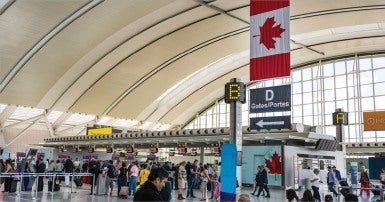 The federal government owns 26 airports across Canada. The airports are privately managed by non‑profit airport authorities that pay rent to the government and reinvest revenues back into the facilities. Airports are essential to travelers and our economy. But the government is now considering privatizing them.
Traveler frustrations make it clear Canada's airports can do better. Canadians pay some of the world's most expensive ticket taxes and airport charges. Landing fees for airlines also rank among the highest. Even though things aren't perfect, a recent poll shows that most Canadians think airport privatization is a bad idea.
Norway's publicly owned and operated airports have much lower passenger taxes and charges. Airport privatization in Australia and the United Kingdom has meant large increases in taxes, charges, and fees.
Privatization will further increase costs and leave Canadian airlines struggling to compete. A drop in business for Canadian airlines means job cuts, including for CUPE members. To maximize profits, airline owners will likely introduce cost‑cutting measures that affect the quality of air travel and continue to place pressure on their employees' wages and benefits.
To cut costs and maximize profits, private airport owners will contract out services like cleaning, de‑icing, and maintenance. Privatization will also likely increase airline operators' costs, driving airlines to look for cheaper servicing contracts. Service providers may cut corners to stay profitable, including cabin cleaners bypassing cleaning protocols. Internationally outsourced maintenance services are increasingly relying on temporary and uncertified mechanics. These shortcuts pose a major danger to the health and safety of passengers and of CUPE members who work in the industry.
It's clear that Canada's airport authorities can do more to improve air travel for Canadians. However, selling airports to private investors is not the solution. Privatization would be disastrous for Canadians. The government would make short‑term financial gains by selling the airports. But, the long‑term costs of privatization will inevitably fall upon the shoulders of CUPE members and Canadian travelers.
Air Canada, the Ottawa, Calgary, and Vancouver airport authorities, city councillors from Toronto and Montreal, as well as other unions including the Public Service Alliance of Canada, Unifor, and the International Association of Machinists and Aerospace Workers, have joined CUPE in opposing airport privatization. Our message is clear: Canada's airports must remain in public hands.
Amanda Vyce