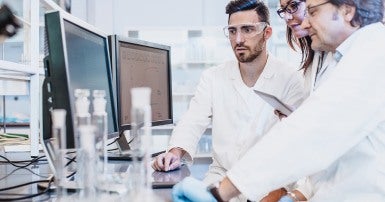 Approximately 70 postdoctoral fellows and non-student researchers at the University of Regina have unionized with the Canadian Union of Public Employees (CUPE). After an organizing drive that began early in 2018, the Saskatchewan Labour Relations Board issued a certification order for the union on August 7, 2018 following a secret ballot vote that saw the academic workers vote 88 per cent in favour of unionizing.
The postdoctoral fellows and non-student researchers and technicians are seeking to improve their conditions of work on campus over the long term.
Marianne Jacobsen helped spearhead the union organizing drive as a postdoctoral fellow in the Department of Biology. She says, "There has been a dramatic rise in short-term, low-paying contract work in academia. We are part of a wave of precarious academics and researchers across Canada who are unionizing to assert the value of our work and to seek better working conditions as highly educated professionals."
The workers hope to address issues such as better pay and standardized pay increments, health benefits, workplace representation, and parental leave in negotiations for a first contract with the University of Regina.
"Improved working conditions for postdoctoral fellows and non-student researchers will also aid the University with recruitment and retention of high quality researchers," says CUPE National Representative Guy Marsden, who notes that a large proportion of these academic workers come from many other parts of the world.
Marsden says the next steps for the union include developing concrete bargaining proposals, electing a bargaining committee, and sending a notice to bargain to the University of Regina to negotiate a first collective agreement.