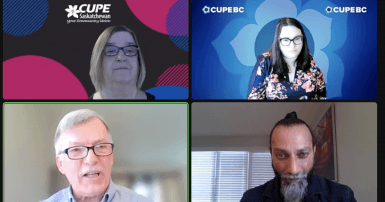 Political commentator and Canadian icon Chantal Hébert kicked off CUPE Saskatchewan's Political Action Summit with a riveting keynote speech on the shifting landscape of Canadian politics.
Over 100 participants joined in to listen to Hébert speak on a range of issues, including the trucker convoy and growth of far-right extremism in Saskatchewan and Canada.
"Saskatchewan MLAs have been leading the charge in support of the convoy. I did not think I would see the day where sitting MPs would make excuses for people bringing Nazi flags to Parliament Hill," said Hébert. "There are times where partisan needs should take a back seat to public interest and this is one of those times."
When asked about the biggest issues facing workers, Hébert said:
"Make no mistake we are heading into tough times. Austerity budgets, climate change, a strained relationship with the United Stated and cost-of-living issues are going to be a big deal going forward, but the childcare plan is going to help. There is also a positive side for workers. We are facing a labour shortage, and this often leads to pay increases for workers."
The second day of the summit was a full day workshop for CUPE members on topics ranging from why politics matter, and what we can do about it.  Speakers included: Stephen Drost, President of CUPE New Brunswick, Aubrey Gonsalves, CUPE Diversity Vice-President Black and Racialized Workers, Karen Ranalletta, President of CUPE BC, Paul Moist,  Emeritus National President and Ryan Meili, leader of the Opposition.
"Political action training is fundamental to what we do as a union. From the bargaining table to the ballot box, CUPE members are ready to take action to make life better for workers," said Kent Peterson, CUPE Saskatchewan Secretary-Treasurer. "Recently, it has become very clear that Scott Moe and the Sask. Party are not interested in listening to working people – which is why I think so many CUPE members signed up for our Political Action Summit."
Judy Henley, President of CUPE Saskatchewan added: "Everything is political. Education and discussion is key to mobilizing our members. We need to prepare for the bargaining table and the upcoming provincial budget that may negatively impact public services."
Sign up to get invites to future events: www.publicservicevoter.ca