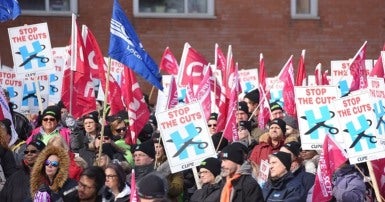 Ontario's hospital bed shortage is a chronic condition that "won't be alleviated by the small number of temporary beds the province announced this week. Underfunded hospitals and sick patients who truly have nowhere to go and the pressures of an aging and growing population require permanent resources for that," says Michael Hurley president of the Ontario Council of Hospital Unions (OCHU).
There have been many demands for the province to deal with patient overcrowding and to restore lost bed capacity in our hospital system with permanent funding for beds. Over two decades Ontario has cut about 18,000 beds. Consequently, Ontario has the lowest hospital beds (per population) among developed economic countries.
Ontario's health minister has announced a funding increase that covers about 1,200 hospital beds for a four-month period. The announcement equals about 0.5 per cent in hospital annual funding.
"These beds come with an expiry date of March, weeks before a provincial budget and a few months before an election. This is only a solution to get us through the flu season. Patients and their families need much more than that," says Hurley.
Hospital staff from across the province agree with him. Hundreds of them are readying to board buses early Friday (October 27, 2017) morning for a major rally at Ottawa's Montfort Hospital, slated for 12:00 noon, that same day. Their goal is improved funding for hospital care, which lags behind all but one Canadian province.
"It is a good thing that the government acknowledges that we have a serious problem with hospital bed capacity in Ontario. But what they've provided is temporary and does not address the real funding crisis in Ontario. Hospitals need a 5 per cent funding increase just to deal with inflation. They are only receiving 3 per cent on average, which means ongoing cuts to other beds and services. Our response is a major rally in Ottawa-Carleton, an Ontario Liberal strong-hold," says Hurley.
Twenty-five busloads of hospital staff from Sudbury, North Bay, Toronto, Kingston, Hamilton, Peterborough and Durham Region, as well as Ottawa and other eastern Ontario communities, are participating in a short march before the rally at the Montfort Hospital on Montreal Road.