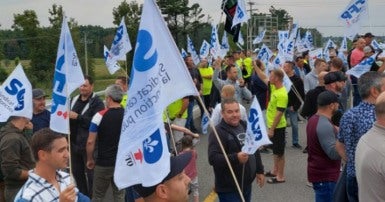 Last night, more than 150 people demonstrated in support of Blainville firefighters, who have been unsuccessfully attempting to renew a collective agreement that expired several years ago.
Demonstrators included several participants from the new CUPE Fire Service Sector, which was holding its first sectorial meeting in Blainville.
They left from the Times Hotel and walked toward an overpass straddling Highway 15 between Blainville and Mirabel. They later occupied the area for close to thirty minutes, which stopped traffic on that artery.
Some fifty firefighters have been without a contract since December 31, 2019. Several bargaining and mediation sessions failed to produce a satisfactory agreement. Internal equity and external wage comparables are at the heart of the dispute.
Moreover, in the summer members unanimously rejected a truce in pressure tactics, which the employer requested and demanded as a condition to continue talks.
Consequently, the City decided not to extend the mediator's contract and wait until a dispute resolution council (arbitration) was formed, which caused an uproar among the firefighters.
Note that, at a general meeting last February, the firefighters adopted a mandate involving pressure tactics to be exercised at an opportune time.