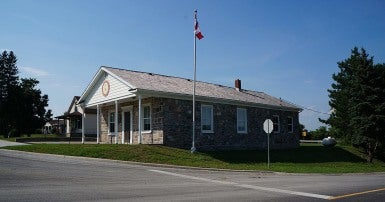 At a time when Ontario municipalities are striving for workforce stability and ways to lead by example, Wellesley Township Council is going in the other direction, says the president of  CUPE 1542.
Council's recent decisions to attack municipal workers' rights in bargaining while spending money on an outside consultant known to have anti-vaxx and bigoted views, shows just how "out of touch with reality, this council truly is," says CUPE 1542 president Chris Roth.
The Township's negotiating team includes Ken Godevenos, a labour consultant, with a long record of sexist, racist, anti-union, Islamophobic and anti-LGBTQ posts on his Twitter account, alongside an ongoing stream of COVID vaccine disinformation.
"The Council is displaying poor judgement here. They have hired someone who's been a bully in bargaining, whose approach in negotiations mirrors his social media presence – completely divorced from reality," said Roth. "This individual has demeaned municipal workers and their contribution to our community while displaying marked sexism towards our woman union representative."
Unit one of CUPE 1542 is bargaining a new agreement for its 12 members who work in recreation and public works. The employer has tabled a long list of concessions including cuts to benefits, vacation time and a clothing allowance; elimination of overtime and unprecedented scheduling changes as well as rewriting of job classifications.
"They want to rewrite our entire collective agreement, which we have negotiated over 47 years. By hurting the people who help maintain our public parks and sports fields, who repair potholes and plow snow, the Council is hurting the people who live and work in our community. When you reduce compensation and degrade working conditions, you end up undermining the quality of the services these workers provide," Roth said.
"This is especially disappointing as our members have made a lot of sacrifices over the past 18 months – worked 12-hour shifts, given up weekends and worked on days off, and responded to all kinds of requests from the employer, because our goal has been to serve the public."
Last month, the union wrote a formal email to council apprising them of the adverse effects the employer's proposals will have on public services, while documenting the history of off-side views associated with their labour consultant.
In response, Wellesley Mayor Joe Nowak wrote back saying he and the Council "stand behind our negotiating committee."
"This is baffling. How can the Mayor and the Council double down on their support for a person who is spreading misinformation about COVID-19 vaccines?" Roth said.
Also in question is the money the council and the municipality are shelling out for the consultant. 
"How much is he getting paid? Could this money be defraying the cost of orthodontics for the children of the workers whose benefits are on the chopping block or is the money for the consultant coming from cuts to our overtime pay? People in our community and the 12 municipal employees and their families impacted directly, have a right to know why the township would spend money on a hired axeman, instead of investing in their own front-line staff and their families," Roth said.
Roth pointed out the Local has never had a strike in the past as they have managed to work out deals with the employer, but they had never faced such a difficult bargaining team until now.
"Our membership is looking for a fair deal that respects our labour and recognizes our proud history of serving our community. We want to avoid labour disruption and continue providing vital public services to build prosperity in Wellesley. But the Township's negotiating team doesn't seem to share this vision."