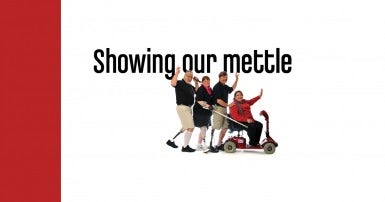 Accommodation-themed poster
Starring CUPE members (right to left) Joanne Webb, Stephen Drost, Jacquie Robertshaw, and Pat Shade, the poster celebrates the strength and the pride of our members, who have championed the rights of persons with disabilities.
The poster's unique shape makes it especially visible. At 33 inches wide and 8 ½ inches tall, the poster folds to the size of a standard sheet of paper, and fits perfectly in a folder.