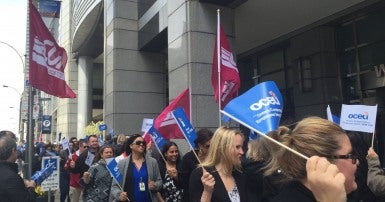 Workers at the Ontario Workplace Safety and Insurance Board (WSIB) have voted 95.5% in favour of strike action as a uniquely challenging round of bargaining reaches a critical point. 

"WSIB would rather force 3,400 hardworking members, who are supporting Ontarians during a particularly vulnerable time, to strike instead of bargaining a fair contract," said Harry Goslin, President of the Ontario Compensation Employees Union (OCEU), Canadian Union of Public Employees CUPE 1750. "What we're asking from our employer is modest: fair compensation improvements as permitted under Provincial legislation – Bill 124,  a plan to address serious systemic workload problems,  and solutions to resolve our historic 600 plus grievances."

"WSIB workers are under resourced and as a result they are being pushed to their limits, especially now as Ontario's workforce is grappling with compensation, benefit, and health care coverage loss as a result of contracting COVID-19 while at work," continued Goslin.

OCEO/CUPE 1750 members serve workers, their families and employers in Ontario, providing compensation for loss of earnings, benefits or health care coverage to eligible employees who have suffered an injury or illness as a result of their job.

"While we're hopeful that this overwhelming support for a strike mandate will encourage WSIB to bargain a fair deal, our members are ready to begin a work-to-rule campaign and as a last resort, a possible strike," says Goslin. "Any job action we are forced to take will avoid impacts to injured workers. We encourage WSIB to recognize the important role their employees play in keeping Ontario workers safe and to bargain a deal that addresses our modest and fair proposals at the bargaining table."
  
The Ontario Compensation Employees Union (OCEU)/CUPE 1750 represents more than 3,400 employees of the Workplace Safety and Insurance Board (WSIB) and 145 employees of the Infrastructure Health and Safety Association (IHSA) across Ontario. Negotiations continue with the WSIB.