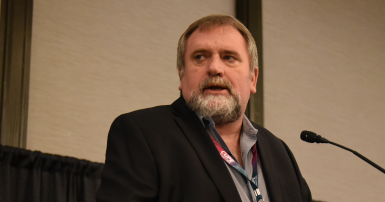 CUPE National President Mark Hancock opened the All-Committees Meeting in Vancouver by Zoom from Toronto, where he is supporting CUPE's 55,000 Ontario education workers fighting union-breaking measures from the Ford government.
"The David versus Goliath fight for Ontario school board workers started when the Ford government introduced the most draconian version of back-to-work legislation we have ever seen," said Hancock.
The Ontario School Board Council of Unions, representing 55,000 education workers across the province, has been trying to reach a fair deal at the bargaining table and a much-needed wage increase for workers. With the overwhelming support of members, with a 96.5% strike vote, they served strike notice last weekend as part of the bargaining process. This puts them in a strike position on Friday.
Yesterday, the Ford government introduced legislation imposing a new four-year contract and overriding their Charter right to strike. They plan to force it through the Ontario legislature by the end of the day on Thursday.
"They are invoking the Notwithstanding Clause – because they know that this legislation violates the Charter of Rights and Freedoms," said Hancock. "If this pandemic and the economic fallouts that came with it have taught us anything, it's that workers in Canada need a strong union now, more than ever," said Hancock. "And working people and their families need a strong labour movement now, more than ever."
"Doug Ford isn't just taking on 55,000 education workers in Ontario. He's taking on 715,000 CUPE members all across Canada."