Craig Saunders | CUPE Communications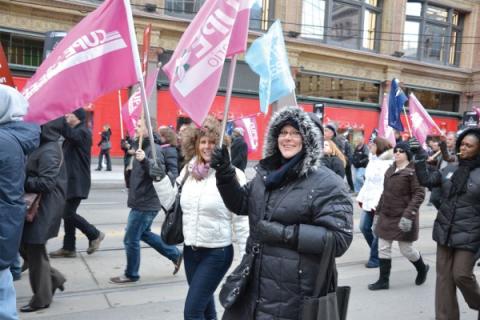 As he prepares for an eventual provincial election, Ontario Conservative leader Tim Hudak has set out to make Ontario the beachhead for American-style right-to-work laws. Essen­tially these laws are designed to undermine the collective bargaining strength of a union by permitting workers to opt out of joining a union and paying dues.
In a recent by-election loss to the NDP in Niagara, labour issues were promi­nent during the campaign. The public – and several of Hudak's own MPPs – spoke and forced him to change his plans.
Hudak admitted his right-to-work plans were proving more divisive than popular. "When I talk to employers and to workers, some of them tell me they want right-to-work laws in Ontario, but not many."
Right-to-work laws exist in 24 US states. In these states median household incomes are $6,437 less, an increased percentage of jobs are low-wage, health care provisions are worse, poverty rates are higher, spending on education is much lower and the workplace death rate is 36 per cent higher, according to the AFL-CIO.
Despite the public reversal, few believe Hudak is sincere about moving away from attacks on labour. Even in announcing he no longer plans to run on changing the Rand Formula, Hudak said, "Our agenda is a lot bigger, and a lot more ambitious than that."
The Ontario Conserva­tives have introduced a private members' bill that would encourage the provincial government to contract out and privatize any service provided across the broader public sector. The proposed legislation would eliminate permanent full time work in favour of asking workers to bid on their own jobs.
"As a piece of legislation, it simply defies logic. It would mean a revolving door of private companies replacing the people who help special needs students in our schools, replacing the dedicated workers who support people with developmental disabilities or caring for our aging parents," said CUPE Ontario President Fred Hahn. "It would mean less stability and poorer service for the people most in need of reliable care."