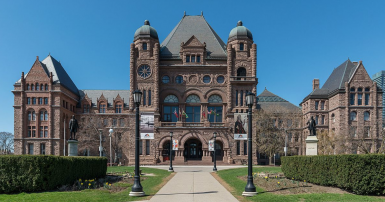 The Ontario government's throne speech was little more than a rehash of the Ford Conservative's well-worn talking points when what Ontario needs now is a real plan to keep people safe and ensure a recovery for all, said CUPE Ontario.
"Nothing in today's Throne Speech was new and nothing in it inspires confidence that the Ford Conservatives understand what we need to keep Ontarians safe today and lead us towards a recovery for all," said Fred Hahn, President of CUPE Ontario. 
"There's so much this speech did not spell out that we needed to hear," said Hahn. "It mentioned that many workers' take-home pay has not kept up with rising costs, but immediately changed the topic, failing to mention that it was the Ford Conservatives who scrapped the plan to increase the minimum wage to $15/hr in 2019. The Ford Conservatives passed Bill 124 which locks public sector workers into wages that fall further and further behind inflation with each passing year and failed to mention repealing this law. And the speech said nothing about moving us toward permanent pay increases for the lowest paid front-line workers. They can't complain about wage stagnation when they are the ones with their thumb on the scale."
"The speech also failed to mention the federal child agreement that this government needs to commit to or the investments we need in schools at all levels," said Hahn. "No mention of permanent paid sick time for all workers. No mention of the need to increase funding to municipalities, post-secondary institutions, or community-based social services. The list of what this Throne Speech was missing is longer than what it contained" 
"In fact, they even went as far as simply not telling the truth. Claims that 'they have not hesitated to spend what's necessary to protect lives and support families' flies in the face of the unspent billions. Adding insult to injury, not only are Ontarians left with billions of unallocated funds unspent, but we are continuing to pay subsidies, like parts of the hydro bills for massive and profitable corporations like Amazon, Shopper's Drug Mart, and Loblaws. "
The throne speech claimed that an economic and fiscal recovery alone will supply what is needed to invest in services, with a promise that the recovery will not be fueled by tax hikes or spending cuts.
"This is simply wishful thinking on the part of the Conservatives," said Hahn. "We need mechanisms to raise revenues by actually raising taxes for the wealthiest Ontarians and the most profitable corporations."
CUPE Ontario, which represents workers throughout the healthcare system including in long-term care, also said that the focus on health care in the Throne Speech rings hollow for those who know what is happening on the ground across the province. 
"Because of burn out and regular attrition we're losing staff in LTC faster than they can be replaced – and that's before we talk about staffing up to implement a four-hour care standard," said Candace Rennick, Secretary-Treasurer of CUPE Ontario. "Let's be clear about what they announced today: it's not good enough and we need to keep the pressure up until we have enough staff to provide the four hours of direct, hands-on care elders in long-term care deserve, and fully remove profit from care in Ontario."