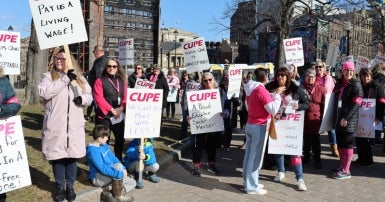 Late last night, CUPE's provincial school support bargaining team reached a tentative agreement with government.
"Without the public pressure that our members generated, this deal would not have been possible," said CUPE NSSBCU Chairperson Chris Melanson. "Education workers showed tremendous leadership in this round of bargaining. Our 5400+ members across the province stood shoulder to shoulder in support of their bargaining team and stayed united throughout this challenging process. It's a historic first for our sector and something we're excited to build on in the next round of negotiations."
"We are so grateful and moved by the support of parents, teachers, other allies, and our fellow working people across Nova Scotia. We could not have achieved this deal without them, and we thank them sincerely for standing with us throughout this struggle," Melanson continued.
"When working people come together and mobilize, we win," said CUPE Nova Scotia President Nan McFadgen. "Education workers showed that they have the support of their communities, and the fact that they were willing to take to the streets was the key to our negotiation success."
Ratification votes will take place within the coming weeks. Details of the agreement will be presented to CUPE school support members at meetings across the province. No further information will be released publicly until the tentative agreement has been presented to the membership.