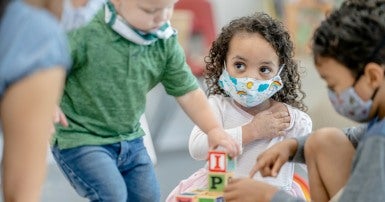 Nova Scotia early childhood educators, represented by CUPE are calling on the Houston government to increase safety measures, including PPE, for child care workers as case counts of the omicron variant of COVID-19 continue to rise.
"Child care workers are being put in a very difficult position by this government," says Nan McFadgen, President of CUPE Nova Scotia. "They are working with young children who cannot be vaccinated yet. With staffing levels in our child care centres already at critical levels, we need to do everything we can to protect these workers and the children in their care."
As the omicron variant continues to spread across Canada, the country's top doctors have recognized the airborne spread of the virus and called for the increase in usage of respirator type masks such as N95s, to effectively protect against transmission of the virus. Currently child care workers in Nova Scotia are not being provided with this type of protection.
"When you work with young children you are up close and personal for eight hours a day, it is not a job you can do with social distancing," says Naomi Stewart, CUPE child care coordinator in Nova Scotia. "Many of these classrooms do not have open windows or the proper ventilation to help reduce airborne transmission."
The province recently announced that they would close public schools in response to the increase in transmission throughout the school system. This has resulted in increased usage of child care centres for after school services.
"With many other services, including schools, being closed, child care workers are heroically battling on the front lines of the pandemic," says Margot Nickerson, President of CUPE Local 4745, which represents early childhood educators at several child care centres in the provnce. "Premier Houston is not providing these workers with the level of protection that our public health officials are calling for. Something needs to be done."
CUPE represents over 200 early childhood educators at not-for-profit and profit child care centres across Nova Scotia.