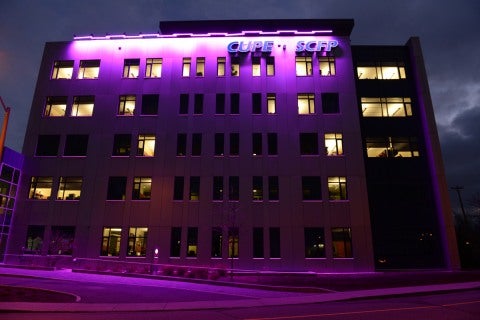 CUPE is lighting up its national office in purple for 16 days as part of the Shine the Light campaign to bring community awareness to violence against women and girls. The campaign is organized by the Ottawa Coalition to End Violence Against Women (OCTEVAW).
Shine the Light is one of several campaigns being organized in Canada to draw attention to the issue. The YWCA's Rose campaign is also organizing to light buildings, bridges and monuments across the country.
The OTCEVAW campaign started on Tuesday, November 25 and will continue until Saturday, December 6, the International Day for Remembrance and Action on Violence against Women. Many Ottawa-area organizations and businesses are participating.
CUPE is also supporting the YWCA's #NOTokay campaign. #NOTokay is a hashtag to help people call attention to the things they see and hear that promote violence against women. When someone comes across an item online they feel is not okay, they call it out using the hashtag #NOTokay.
Find out more at notokay.ca, and while you're at it follow @cupenat and @ywca_canada on Twitter.