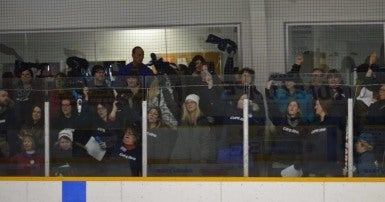 Locked-out workers from Nipissing and Parry Sound Children's Aid Society (CAS) said a collective "thank you" to city and community today as their week-long food drive ended with a bumper crop for the North Bay Food Bank.
In appreciation of the community support they've received since the lockout began on December 23, members of Local 2049 of the Canadian Union of Public Employees (CUPE) created their "Pay It Forward" campaign.
For the past week, they have been collecting non-perishable food items to donate to the North Bay Food Bank. Today was delivery day, as a convoy of four vehicles transferred the bounty from the local's lockout headquarters on Foran Street across town to the North Bay Food Bank.
Along with 1,443 pounds of food to the food bank, the members of CUPE 2049 also raised nearly $400 in cash donations for the organization.
Today's donation to the North Bay Food Bank was generously supported by teachers' unions in the north, including the Ontario Secondary School Teachers' Federation, the Elementary Teachers Federation of Ontario, the Ontario Elementary Catholic Teachers Association and the Near North Occasional Teachers' Local.
In Parry Sound, locked-out CAS workers also held a "drive-through food drive" for the Parry Sound Harvest Share community food bank. Last week workers held a "Pay It Forward" appeal for pet supplies, which were donated the North Bay Humane Society.
"It's an honour to be part of such a wonderful and supportive community," said Elizabeth Holmes, vice-president of CUPE 2049. "We hope our "Pay It Forward" campaign goes some way toward letting our friends, families, and allies know how grateful we are for their support during the lockout and how dedicated we are to the people we serve."