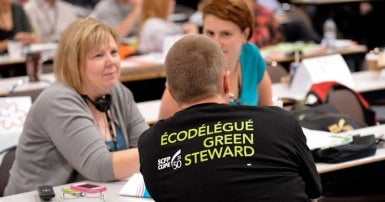 Earth Day is April 22, 2018. CUPE's National Environment Committee wants to profile some of the positive environmental steps CUPE locals are taking in our workplaces. This is a chance to promote all workplace initiatives that help clean up our communities, cut greenhouse gases, save energy, conserve water, or reduce waste.
Here are some steps that qualify as good green actions your local can take:
Promoting and using public transit, carpooling, biking and/or walking to work.
Recycling and/or composting at your workplace.
Having an active workplace environment committee or green champion.
Bargaining green language.
Working with community partners on Earth Day events.
CUPE wants to hear from locals on all the environmental steps you are taking – big and small.
Simply submit your 200-word story, and include your name, local and province, to enviro@cupe.ca. Winners will be profiled on the CUPE National website. Please send us photographs of your initiative and improve your chances of winning. The contest deadline is May 11th, 2018.
Want more ideas? Don't have an environment committee or green language at your CUPE local? No problem. Ideas are available at cupe.ca/environment.
Here are some actions taken by recent winners of the CUPE Earth Day contest:
CUPE 4400, Toronto Education Workers, won in 2017 for developing an urban/workplace farming initiative to help promote local food consumption while cutting greenhouse gases.
CUPE 606 in British Columbia won the 2016 contest for their ongoing involvement with Bike to Work events in their community. CUPE 606 represents school board workers in District 68 in Nanaimo and Ladysmith.
CUPE 6079 of the Hospital Employees Union won the contest in 2015, for their efforts to set up a workplace environment committee. They also put in place an extensive recycling and waste diversion program.