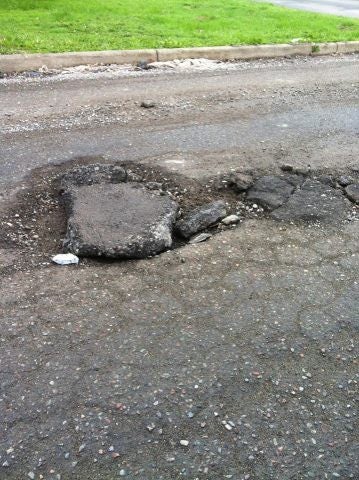 Sydney – A pothole on Norwood Avenue in Ashby has scooped up first prize in the CUPE-sponsored CBRM Worst Pothole Contest. In the winning photo, submitted by Sandra Bobyk, residents of Norwood have tried to repair the pothole themselves with chunks of asphalt!
CUPE created the contest in May in response to the decision by CBRM Council to not do any major road repairs for the second year in a row, in spite of the harsh winter."There was no municipal infrastructure work done last year and looks like there will be none this year," says CUPE National Representative Wanda Power. "We are hoping this illustrates the negative impact that cuts to staffing and services have on residents and the community as a whole."
CBRM Council eliminated 29 staff positions, union and management, in this year's budget.
Contest winner Sandra Bobyk will be presented with her prize, an iPad Mini, at the CUPE Sydney Area Office, 500 George Street, this Thursday, July 17, at 12 noon. Members of the media are invited to attend the award presentation and take pictures.
CUPE represents inside and outside employees in the CBRM, including school crossing guards.