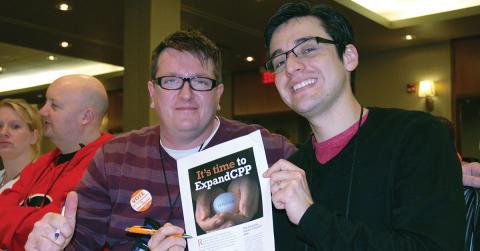 In 2013, CUPE remained a leader in calling for an expanded Canada Pension Plan and Quebec Pension Plan. Working with the CLC's Retirement Security for Everyone campaign, we called for the federal government and premiers to take action on much-needed pension reform. Flying in the face of a growing provincial and territorial consensus, evidence from pension experts, and overwhelming public support, the federal Conservative government is now the biggest obstacle to CPP expansion.
In March, CUPE Quebec stepped up its fight for retirement security with the launch of cestnotreretraite.com (It's our retirement). The online and television ad campaign aims to build support for an expanded QPP.
Our union also defended workplace pensions under attack. In Quebec, CUPE challenged a provincial government report calling for sweeping pension plan changes. In contrast to the D'Amours report, CUPE Quebec pointed to examples of locals negotiating to ensure the financial health of their pension plans.
In December, CUPE filed a complaint with the New Brunswick Labour and Employment Board over changes to the province's largest public sector pension plan that will convert the defined benefit pension into a plan that shifts risk to current and future retirees. CUPE will challenge the changes in court, arguing they violate the Charter of Rights and Freedoms. CUPE locals that are part of the plan, representing up to 4,000 members, are urging the provincial government to negotiate, not legislate, pension changes.
In Alberta, the provincial government has announced legislation to unilaterally change the Local Authorities Pension Plan, affecting up to 27,000 CUPE members. CUPE is working in coalition with other public sector unions and the Alberta Federation of Labour to challenge the proposed changes, pushing for joint governance of the LAPP.
In Newfoundland and Labrador, seven municipal locals are fighting dramatic cuts to their pension plan. Board members at the TRIO plan made a unilateral decision to change the way pension benefits are calculated. The CUPE locals are lobbying municipal councils in the seven communities, and working with plan administrators to find alternatives.