Union and community activists say there is no place for profit in our national blood system and that its workers deserve secure hours. This was the message delivered at the June 23 public board meeting of Canadian Blood Services in Winnipeg.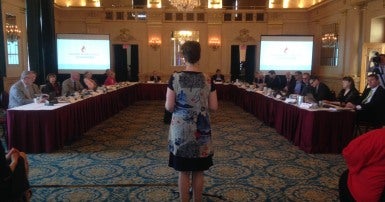 In February, private for-profit company Canadian Plasma Resources set up a paid-plasma collection centre in Saskatoon, after having been shut out of Ontario two years earlier when that province banned payment for blood or plasma. Since then the Iranian-backed private company has been lobbying governments in BC, Manitoba, Nova Scotia and New Brunswick to open for-profit clinics in their provinces.
Union and community activists implored the board of Canadian Blood Services (CBS) to oppose the private plasma clinic and assert its mandate as the sole collector of blood in the country. After the tainted blood scandal in the 1980s, the multi-year Inquiry headed by Justice Krever recommended that there be one non-profit collector and manager of the blood system in Canada and that donors not be paid. Only Quebec and Ontario have legislation banning the payment of donors for their blood.
Kim Storebo, president of CUPE 1846 (CBS in Alberta) told the board that CUPE welcomed its plans to significantly expand its collection of voluntary plasma.  "Under no circumstances should Canadian Blood Services pay plasma donors with cash or cash equivalents, " she said, which complies with recommendations of the World Health Organization and Justice Krever.
Storebo also urged the board to expand the hours of existing CBS clinics and staff to meet their collection goals.  In the last few years, CBS has deliberately cut back hours for collection and closed clinics as part of Toyota-inspired Lean efficiency model.  The majority of CBS clinic workers are part-time with irregular hours.
CUPE pressed upon the board that increasing the number of full-time positions and hours for part-time workers would also improve conditions for donors who often have long wait times because of overbooking at clinics. "Where are we supposed to put the donors? We can't hang them on the walls!" she told the board.
Other unions and community groups who presented to the board were OPSEU, eight blood services workers from PEI who have been on strike for 9 months, the Canadian Health Coalition, Friends of Medicare and Blood Watch.