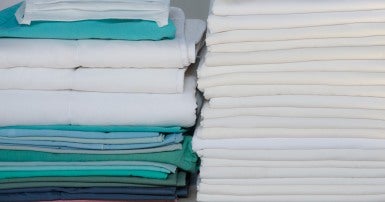 The union representing laundry workers at Western Memorial Regional Hospital says the Newfoundland and Labrador government should honour the commitment it made to maintain unionized services at the new acute care hospital in Corner Brook. CUPE represents approximately 60 laundry workers at the hospital who are concerned about losing their jobs if laundry for the new hospital is put out to tender.
CUPE National Representative Donna Ryan says the union does not care where the laundry facility is located, but that the union jobs be maintained. "The existing buildings could be renovated to provide space for services that have been squeezed out of the new plan, like laundry and physiotherapy for example," says Ryan. "The important thing is that we don't turn good jobs with benefits into low wage jobs with no benefits by turning laundry services over to the private sector. The community cannot afford another economic hit."
In addition, Ryan says, for-profit laundry services would cost more and deliver less. "The taxpayer always ends up paying more when profit is involved in public services," she says.
CUPE Newfoundland and Labrador President Sherry Hillier says taxpayers deserve more transparency around the whole RFP process. "We hope that when the report is received on September 30th the contents will be made public," she says.
"Dwight Ball promised when the new facility was announced that the laundry services classifications would be maintained," Hillier continues. "We are hoping Premier Furey will honour the commitment of his predecessor."