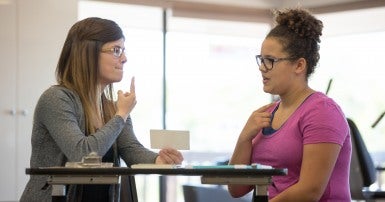 Niagara Catholic District School Board workers, represented by the Canadian Union of Public Employees (CUPE), are questioning why the board is talking about a 'balanced portfolio' when front-line school board staff, including 32 CUPE 1317 members, are being laid off as early as June.
"We find it disingenuous for the board to be trumpeting their balanced budget while staff layoffs and the impact of these cuts are being downplayed," said Anna Maxner, president of CUPE 1317. "Our members keep the schools clean and safe and deliver services to enhance students' educational experience. When you cut 32 positions that are vital to the school system, there will be an impact on school operations – yet, as far as we know, none of this has been raised publicly in meetings or with the parents."
Maxner is referring to recent media reports of the board touting their budget being balanced while there appear to be no plans in place to address the issue of layoffs and how these cuts will impact services in schools. Thirty-two school board staff, including twelve Designated Early Childhood Educators, seven Communicative Disorder Assistants, six custodians, five administrative staff and two Child and Youth workers, have been given layoff notices in the past weeks.
"The board is cutting a significant part of the Speech Language Program department – all seven Communicative Disorder Assistants are being let go, leaving us to wonder who will be there to help students with speech therapy needs," continued Maxner. "So, all the progress and work that our members have been providing to students with speech issues will come to a stop. We are not even sure if the parents are aware that students will be losing this service."
CUPE 1317 represents over 900 school board workers in 57 elementary and secondary schools in the Niagara area. These workers are maintenance and custodians, secretaries and administration staff, IT workers, educational assistants and early childhood educators. "We are urging parents and concerned residents to attend upcoming school board meetings to raise concerns about the cuts and ask trustees to invest in quality public education."