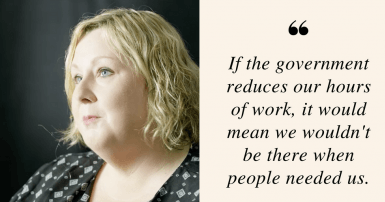 A new radio ad campaign by public service workers in Newfoundland and Labrador hit the airwaves this week, on radio stations across the province. CUPE's public services workers launched the ads to voice their concerns about the Ball Government's failure to protect good jobs, as well as the impact on our economy and our public services.
CUPE believes the Ball Government should recognize the public sector as a driver of economic growth. There are steps the Province can take in the collective bargaining process – and in the next budget – that put people first, protect the public services we need, create good jobs and a stronger economy.
Listen to radio ads 1 & 2
Four radio ads will play from July 24-30 and August 6-14.
CUPE Newfoundland Labrador represents approximately 6,000 public service workers in health care, education, treasury, public housing, provincial libraries, university, transition and group homes, child care and much more.
Listen and watch all the ads at nl.cupe.ca/crossroads.