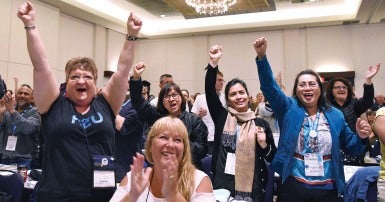 Stephen Elliott-Buckley | CUPE Research
Members of the Hospital Employees' Union (HEU) have something to celebrate – new model health and safety language in their collective agreement that workers across the country can take inspiration from.
HEU is the health care service division of CUPE in BC, representing most of CUPE's health care workers in the province, with almost 50,000 members. The Facilities Bargaining Association (FBA) covers most hospital and seniors' care facilities in the province.
It's been a tough haul for BC health care workers - successive BC Liberal governments over 16 years pushed a hard right-wing agenda that consistently attacked workers and public services.
But after two years of a BC NDP government, HEU has bargained substantial improvements in many areas of health care delivery in BC. Their new collective agreement has some particularly inspiring health and safety victories for workers in all sectors.
The union has negotiated the creation of a future provincial occupational health and safety organization for health care workers. This is vital, as workers in this sector experience some of the highest injury rates in Canada. Having a government agency dedicated to addressing unsafe work is a major step forward.
This $8.5 million government-funded agency will develop effective safety practices to reduce and prevent injuries in health care workplaces.
BC workers covered by the FBA collective agreement now also have up to 17 weeks of unpaid leave for reasons related to sexual or domestic violence, and up to three days of special leave for absences if an employee (or an employee's dependent child) experiences domestic or sexual violence.
Employers will also be required to implement the National Standard of Canada for Psychological Health and Safety to prevent psychological harm to workers.
Other health and safety elements in the new agreement include:
A $1 million investment in musculoskeletal injury prevention projects
A $600,000 fund for pilot projects focused on injury prevention, involving OH&S stewards
Mandatory work station risk assessments for ergonomic safety
More critical incident debriefing and more regional violence prevention committees
More sharing of Code White emergency situation records with JOHS committees
More regional workload tools and committees, and better responsiveness to workload demands
And with Alberta and Ontario joining other provinces in pursuing regressive agendas, people should take what inspiration they can from BC's NDP government.