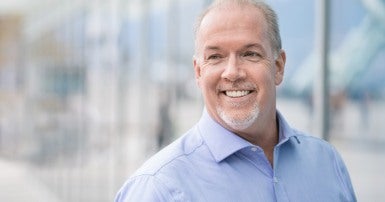 CUPE BC President Paul Faoro made the following statement following news Thursday that the Lieutenant Governor has asked BC NDP Leader John Horgan to form a new government:
"First, on behalf of all 85,000 CUPE members across British Columbia, I extend my congratulations to our province's 36th Premier, John Horgan and the entire BC NDP team. I know that Premier Horgan and his caucus will take immediate action on the priorities and issues that matter to working and middle class British Columbians, including a $10 per day child care system, getting the big money out of our politics, and working to make life more affordable.
"After 16 years of right-wing, regressive policies that have devastated public services in this province, including education and healthcare, there is no shortage of work to be done by the new government. That much damage can't be undone overnight, but I know that Premier Horgan has the vision and the plan to build a better B.C., with an economy that benefits all of us, not just the privileged few.
"I also want to thank all the CUPE members who participated in this election campaign in record numbers. CUPE members also ran as candidates in eight ridings in this election, and were elected or re-elected in three ridings. Congratulations again to MLAs Lisa Beare, Rachna Singh and Judy Darcy.
"It is disappointing that outgoing premier Christy Clark and her caucus chose to try to force a new election, preventing the new government from getting to work sooner. While I have disagreed profoundly—and loudly—with the politics and policies of the former premier, I want to thank her for her public service.
"But while it's somewhat uncharitable to criticize a defeated politician, Ms. Clark and her government have done too much damage to our province to receive the usual well-wishes. Her apparent conversion post-election on issues like child care, campaign finance reform and affordability issues came too late to be seen as credible, but it would appear that Premier Horgan's initiatives will enjoy multi-partisan support in the Legislature.
"Finally, I want to thank Green Party Leader Andrew Weaver and his fellow Green MLAs, Sonia Furstenau and Adam Olsen for putting partisan issues aside to make our Legislature work. The agreement between the BC NDP Caucus and the Green Caucus will ensure the necessary stability to allow the Horgan government to implement much-needed change."