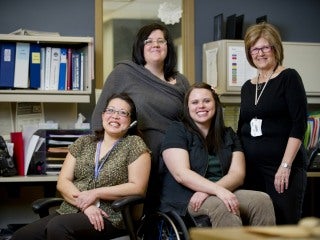 Graham Cox | CUPE Research
With anti-union financial disclosure legislation already introduced by the Conservative government, and the possibility of some form of US-style "right-to-work" law not far behind, there is added urgency for locals to include strong, preventative language in their collective agreements.
That's why CUPE has developed a special Fairness Project bargaining kit. This kit will assist bargaining teams to assess their current collective agreement language and provides sample language that can strengthen collective agreements.
While it might not protect locals from all forms of anti-union legislation, bargaining new language to protect our representation rights is an important line of defence.
For example, financial disclosure legislation would force locals to spend time and resources reporting detailed financial publicly. But union members already have access to this information, and only the employer benefits from this kind of disclosure. The kit helps identify opportunities to ensure the employer shares the cost of implementing any new procedures.
In total, the kit covers these seven vital areas:
Member contact information
Orientation sessions
Access to worksite
Bulletin boards
Union dues deduction and remittance
Union release time
Language in response to potential legislation
There is also a detailed overview of the legal issues related to union access to employee contact information. Contact information is essential to the democratic functioning of the union and required under law. Enshrining this right and the format of the information in the collective agreement will simplify the understanding of this right with the employer.
It has always been important to have a direct connection with all our members even before recent legislative attacks on unions.
Strengthening representation rights will be good for locals, CUPE, and ultimately the broader labour movement.
Talk to your staff representative for more information on the Fairness Project bargaining kit.