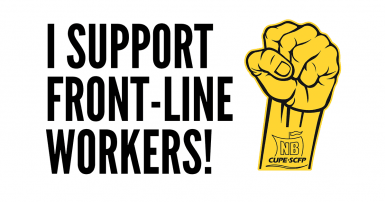 Mediated talks between the CUPE Centralized Bargaining Team and the government of New Brunswick ended today after the government broke off the talks. "We moved significantly from our initial demand, expecting some reciprocity and good will from government, but that did not happen, said Stephen Drost, President of CUPE NB.
While CUPE moved 8 per cent off their initial 4-year demand of 20 per cent over 4 years, the government moved only moved up 2.25 per cent. "It's absurd. The conservatives want to force workers to take below cost of living wages, even if they already are the lowest paid of the lowest paid public service workers in Canada," said Drost. "To top it all, Higgs still expects a major concession!" said Drost.
Government demand: 2 per cent per year, 5-year contract.
CUPE demand: 3 per cent per year, 4-year contract.
Most CUPE locals have been waiting for government to conclude new collective agreements for more than 4 years. Workers' wages have been stagnant over the previous 12 years.
TIMELINE:
Late May 28, 2021: CUPE NB delivers a "100 Day - Final Notice to Bargain" to the government.
Late August: Premier Higgs invites CUPE locals to conduct centralized bargaining. Workers agree as long as talks are about wage increases, not concessions.
Early September: Talks break down, as Higgs and his cabinet ministers insist on tying his 0.25 per cent yearly wage increases to a concession.
September-early October: All 10 locals conduct successful supermajority strike votes, with an average of 94 per cent voting YES.
Early October – The government declares a 14-day circuit breaker to deal with the 4th wave of COVID. CUPE offers to hold off strikes as a show of good will. The same day that CUPE announces a 14-day "truce," the Premier continued his ongoing attacks on CUPE by reclassifying over 1900 LPNs out of CUPE Healthcare to another union.
Mid-October: provincial fiscal update reveals a 4th consecutive budget surplus in the middle of a pandemic, with a 400 million surplus in last year's budget. CUPE denounces how this surplus was made on the backs of workers and by under-resourcing public services.
October 22nd : CUPE proposes the intervention of a mediator to achieve an agreement. The government accepts but refuses to significantly modify their offer and continues to insist upon concessions.
"CUPE has done all it can to settle this without disruption, but he is simply not hearing the call to treat front-line workers with fairness and dignity. He is pushing workers on strike, and that will happen very soon. Enough is enough," concluded Drost.