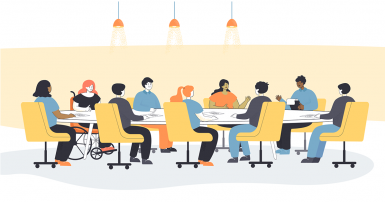 CUPE has launched a new collective bargaining guide that helps locals stop privatization in its tracks. Protecting our work from privatization: How to fight contracting out at the bargaining table features collective agreement language that CUPE locals have negotiated to prevent and reverse contracting out.
CUPE national representatives and local bargaining committees can use the guide to develop collective agreement language that: 
Restricts the employer's ability to contract out. 
Gets ahead of contracting out with notice, disclosure, and consultation requirements. 
Sets contractor standards that deter contracting out. 
Reverses privatization by bringing work into the bargaining unit.  
The guide features examples of recommended CUPE contract language that has been negotiated or arbitrated. It updates and replaces Our best line of defence: Taking on privatization at the bargaining table. This is the third edition of the guide, first launched in 2009.
Whether it's stopping privatization before it takes hold, or working to bring services back in-house, protecting public services benefits workers and communities. This guide will help locals assess their collective agreement and develop a bargaining agenda that ensures their contract provides the best possible protection for jobs and services.
Our best defence against privatization is the collective strength of CUPE members. CUPE collective agreements are a powerful tool in that fight. When members organize to achieve, and strictly enforce, contract language that prevents or restricts our employers from contracting out work, we can protect jobs and public services.