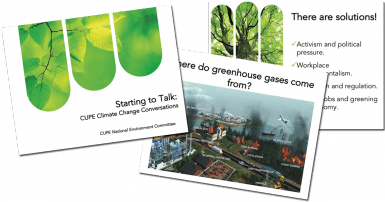 ​
CUPE National has published an updated version of the fact sheet "How to form a Workplace Environment Committee". The fact sheet spells out the benefits of having a committee to address environmental issues in the workplace, such as waste reduction, recycling, transportation, greener meeting practices and other issues.
Copies of the fact sheet can be ordered in English and French. 
CUPE National has also revamped its online workplace environmental auditing tool. This simple yet effective online tool calculates a "green score" when you answer a series of questions about workplace waste programs, water, cleaning products, transportation and other issues. The survey quickly gauges the extent of a workplace's environmentalism.